History
Central Oklahoma Metal Detecting Club was founded November 17, 2010. Our first meeting was held January 4th 2011 At Earls Rib Palace in Moore Oklahoma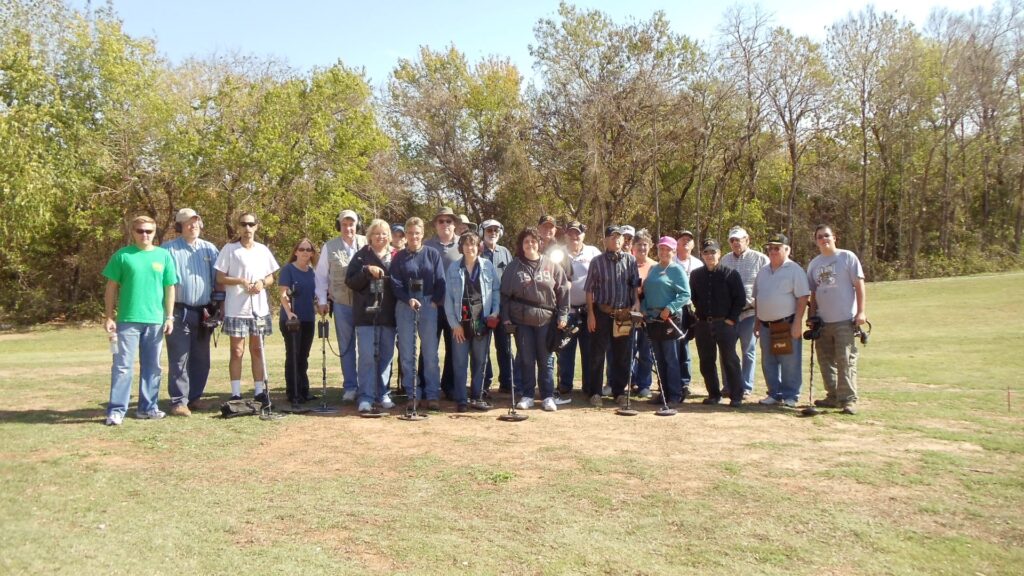 First Hunt 2011 COMDC
About
The Central Oklahoma Metal Detecting Club is a group of metal detector enthusiasts. The purpose of organizing our club is to gather together people interested in the hobby of Metal Detecting, for fellowship, to grow in knowledge of historical facts and historical locations and to share such with members, to promote interest in the hobby of metal detecting and to educate the public as to the value of our hobby and to preserve and protect the rights of metal detecting.
Our meetings are held on the second Tuesday of each month, at 7:00pm, at Johnnies Charcoal Broiler, 2305 S. Telephone Rd, Moore, Oklahoma 73160. Visitors are always welcome at our regular club meetings. All other club activities are open to club members only.
At every meeting we raffle off a one once silver Eagle coin $1.00 per ticket, we bring and donate prizes and sell raffle tickets for $1.00 for 3 tickets. We also have a drawing for attendance, the prize is a silver quarter. We also have our find of the month contest that consists of 3 categories, Coins, relics, and jewelry. the winner receives a silver dime for each category.
Yearly Dues are as Follows:
Individual: ages 18-64 ($40.00), over the age of 65 ($35.00), ages 13-17 ($20.00) (Note: ages 13-17 are non voting memberships), below the age of 13 is free membership with fully paid membership. Dual Membership, Husband and Wife ($60.00)
Some of the advantages of being a member of the CENTRAL OKLAHOMA METAL DETECTING CLUB:
COMPETITION IN THE FIND OF THE MONTH CONTEST
COMPANIONSHIP – AN OPPORTUNITY TO ASSOCIATE WITH PEOPLE WHO HAVE SIMILAR INTERESTS
EDUCATION – MUCH CAN BE LEARNED FROM OUR CLUB PROGRAMS AND FROM OTHER CLUB MEMBERS
CLUB OUTINGS – OUTINGS ARE HELD MONTHLY, WEATHER PERMITTING, WITH A CHRISTMAS PARTY IN DECEMBER